Perfect Tyme Clock Sales
Visit our store today or request a quote now!
Whether you are looking for a timeless classic or a unique clock design – we are sure, you will find something that will perfectly compliment your style and your decor!
Our shop has a large variety of beautiful cuckoo, grandfather, wall, mantle and novelty clocks to choose from! Our clocks are sold at attractive discount prices!


Perfect Tyme represents Howard Miller, Rhythm, Ridgeway, Bulova, and Black Forest Clocks, offering discount prices and an excellent customer service!

Call us today for an appointment, stop by at our shop or request a quote now and let us help you find the perfect clock!
---
---
Our Clocks for sale!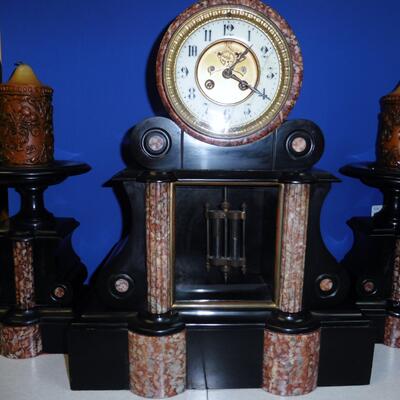 French Mantel Clock
Napolean III Style
19th Century
Mercury Pendulum
Porcelain Dial
Matching Candlestick Urns
Onyx Marble and Slate
Movement Recently Overhauled


$3,000.00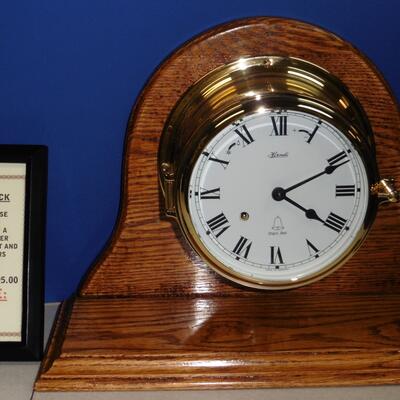 Hermle Ships Bell Clock
Polished Brass Case
8-Day Key Wound
Hinged Bezel with a Screw-Down Fastener
Fast-Slow Adjustment and Strike-Silent Levers Throughout the Dial
Oak Display Case
Retail Price $1,295.00

Sale Price: $595.95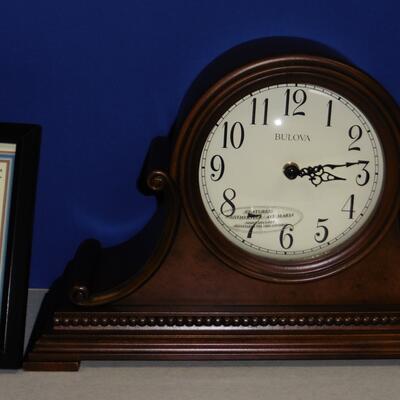 Bulova "Asheville"
Tambour Style with Burl Accents
Choice of:
Westminister ave. Maria 0R Bimbam on the Hour
Westminister Chime with Hourly Strike
Volume Control
Night Shut-Off
Engraving Plate
Retail Price: $324.00

Sale Price: $199.95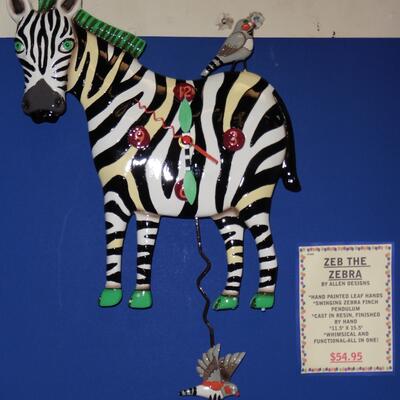 Zeb the Zebra
By : Allen Designs
Hand Painted Leaf Hands
Swinging Zebra Finch Pendulum
Cast in Resin, Finished by Hand
11.5" X 15.5"
Whimsical and Functional - All in One!


$54.95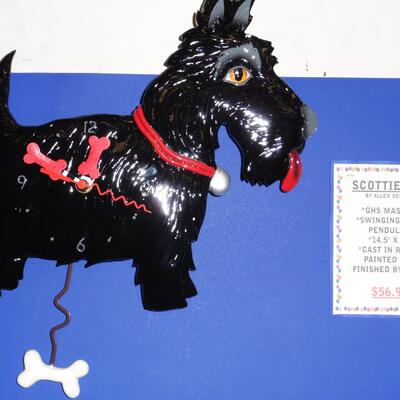 Scottie Dog
By : Allen Designs
GHS Mascot!
Swinging Bone Pendulum
14.5" X 12"
Cast in Resin
Painted by Hand and Finished by Hand


$56.95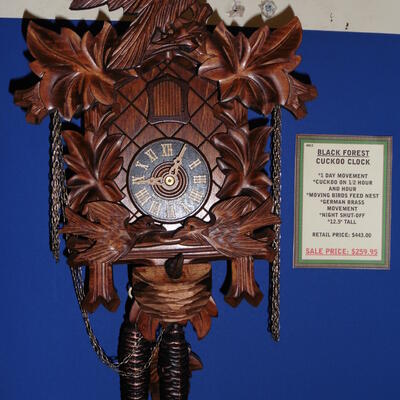 Black Forest Cuckoo Clock
1 Day Movement
Cuckoo on 1/2 Hour and Hour
Moving Birds Feed Nest
German Brass Movement
Night Shut-Off
12.5" Tall
Retail Price: $443.00

SALE PRICE: $259.95